Duke Avenges 2017 Loss To Army
Details

Written by

Associated Press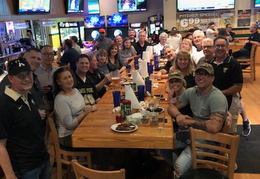 DURHAM, N.C. -- Daniel Jones was a more efficient passer than Army's quarterback -- and that's more impressive than it might seem.
Jones threw for one touchdown and rushed for another score, helping Duke open with a 34-14 victory over Army on Friday night.
Jones was 13 of 17 for 197 yards with a 1-yard touchdown run and a 25-yard scoring pass to Aaron Young.
"It started with a strong running game. ... The offensive line and their ability to impose their will and open up lanes for the running backs was big," Jones said. "Only 17 pass attempts but when we did, we were efficient with it, and it was good to see."
The biggest surprise of the night was how well his counterpart -- Kelvin Hopkins Jr., a junior making his first career start -- threw the ball. The passing game has largely been an afterthought at Army, which for years has been known for a triple-option offense that led the nation in rushing last year.
Hopkins also threw for 197 yards -- on 10-of-21 passing -- with a 45-yard touchdown pass to Cam Harrison. It was the most yards passing for Army since 2015.
Nominations for 2018 WPAOG Election
Details

Written by

Todd A. Browne '85
Dear Fellow Graduates,
As previously announced, nomination packets for the 2018 WPAOG Election must be received at Herbert Alumni Center by July 1, 2018. The requirements for a nomination packet are posted on the WPAOG website (please see the link below).
Talented and dedicated volunteer leadership is critical to WPAOG's success in serving West Point and the Long Gray Line. WPAOG Directors are fiduciaries, and they are responsible for the oversight and the guidance of our Association's services, programs, and operations (see Bylaws, Sec. 6.1). The Advisory Council advises the Board of Directors on matters pertaining to the Association's affairs (see Bylaws, Sec. 7.1). Advisors also serve on WPAOG committees and task forces.
The 2018 Nominating Committee shall consider submitted nomination packets and compose a slate for recommendation to the Membership at the Annual Election. The slate shall include five nominees for five Director positions (each with a three-year term), and six nominees for six Advisor-at-Large positions (each with a three-year term). All terms shall begin on January 1, 2019. The 2018 Election will take place at our Annual Meeting, Tuesday, November 20, 2018, at 5:00pm Eastern Time, in Herbert Alumni Center at West Point. All USMA graduates may vote at the Annual Meeting, or vote by proxy, which will be distributed in October.