Army's ground attack hands Buffalo its first loss, 42-13
Details

Written by

Associated Press - Sep 29, 2018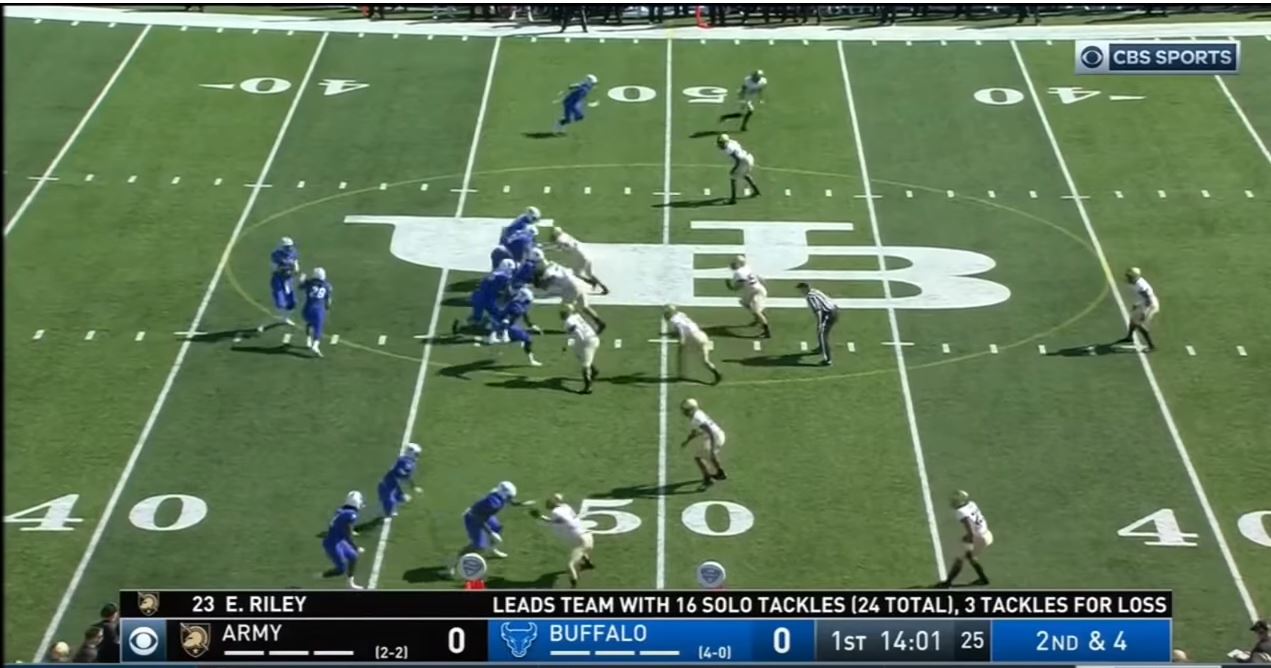 AMHERST, N.Y. -- Army didn't allow the disappointment from its overtime loss to No. 5 Oklahoma linger into the next week.
"We couldn't let that beat us twice," cornerback Elijah Riley said.
The Black Knights mixed in a few big scoring plays with its ground-control offense to defeat previously unbeaten Buffalo 42-13 on Saturday and get back on track toward bowl eligibility.
Riley returned a blocked field goal 80 yards for a touchdown and Kevin Hopkins threw a 25-yard touchdown to Jordan Asberry to bolster Army's triple-option offense that gained 281 yards and scored four times on the ground while running up 37:34 in time-of-possession.
"When you can get a big chunk play in there it makes it a lot easier," Army coach Jeff Monken said. "It gives you a little breathing room. You don't feel like you've got to go 16 plays, 19 plays, hammering it 3 or 4 yards all the way down the field. It's hard to do."
Army (3-2) was still able to put together four scoring drives of at least 10 plays and 74 yards, which helped to limit a Buffalo offense that had averaged 40.2 points and 428.8 yards over its first four wins.
"We knew they have an explosive offense, so we just wanted to stay on the field as much as possible," Hopkins said.
Hopkins led the Black Knights with 89 yards on 19 carries. He also completed 4 of 5 passes for 91 yards and a touchdown after being intercepted on his first attempt. Calen Holt, Connor Slomka, Darnell Woolfolk and Luke Langdon had rushing touchdowns.
Read more: Army's ground attack hands Buffalo its first loss, 42-13
Column: Buffalo vs. Army is the game of the week!
Details

Written by

Luke Swanson -Daily Campus.com

Army 21, Oklahoma 28
If you were actually able to watch this game last weekend, congrats! You were lucky enough to either have paid $54.99 for the privilege to watch Oklahoma as a 30-plus point favorite over The Troops, or you logged on to a shady Twitch stream with alternate commentary provided by a man with a very heavy Oklahoma accent.
That's because this game was broadcast exclusively on pay-per-view: each team in the Big 12 gets to sell one non-conference game a season to the highest bidder (this is the result of Texas getting their own television network).
Oklahoma's distributor for this game just happens to use the same format used only by MMA and boxing - professional wrestling doesn't even use it anymore!
It's a real shame, because this was certainly one of the more entertaining games this year so far. Army slowed the game down to a veritable crawl with their weird, wonderful pseudo-flexbone option, controlling the ball with 44 minutes of total possession and scoring on drives of 8:54, 9:31 (!) and 10:47 (!!) in length.
They almost scored again on a 10:06 minute long drive at the end of the game, but got bit on the behind when they strayed from their roots and attempted their eighth pass of the game, which was intercepted to send the game to overtime, where Oklahoma would eventually win.