Duke Avenges 2017 Loss To Army
Details

Written by

Associated Press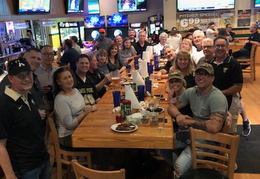 DURHAM, N.C. -- Daniel Jones was a more efficient passer than Army's quarterback -- and that's more impressive than it might seem.
Jones threw for one touchdown and rushed for another score, helping Duke open with a 34-14 victory over Army on Friday night.
Jones was 13 of 17 for 197 yards with a 1-yard touchdown run and a 25-yard scoring pass to Aaron Young.
"It started with a strong running game. ... The offensive line and their ability to impose their will and open up lanes for the running backs was big," Jones said. "Only 17 pass attempts but when we did, we were efficient with it, and it was good to see."
The biggest surprise of the night was how well his counterpart -- Kelvin Hopkins Jr., a junior making his first career start -- threw the ball. The passing game has largely been an afterthought at Army, which for years has been known for a triple-option offense that led the nation in rushing last year.
Hopkins also threw for 197 yards -- on 10-of-21 passing -- with a 45-yard touchdown pass to Cam Harrison. It was the most yards passing for Army since 2015.