Army defeats Lafayette 31-13
Details

Written by

John Kekis, The Associated Press
Woolfolk scores twice, Army beats Lafayette, 31-13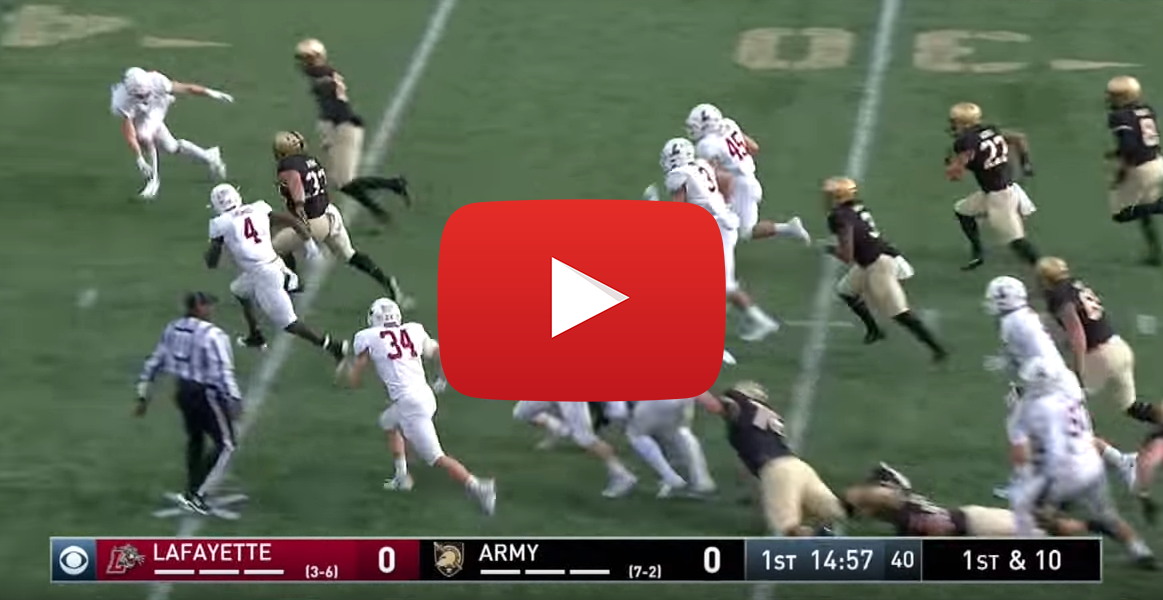 Hopkins Jr. each scored on short runs, and Army beat Lafayette 31-13 on a windswept Saturday.
It was the sixth straight victory for Army (8-2), which has won 12 in a row at home. Lafayette (3-7), which plays in the Championship Subdivision, fell behind early and was doomed by a blocked punt to start the second half.
"I challenged our team this week to try and play our very best football, to play the best that we can play," Monken said. "At this point in the season we really need to be doing that if we're going to accomplish the goals that we've still got out there. I don't think we did that today, but it was good enough to win. We made some plays."
Army dominated the opening half, running twice as many plays as the Leopards, outgaining them 256-63, and holding the ball for nearly 22 minutes to gain a 17-6 lead. The margin could have been greater if not for a turnover and two false start penalties in a three-play sequence with the ball inside the Lafayette 10 that forced Army to kick a field goal on the game's first drive.
Monday Morning Quarterback Report
Details

Written by

Jim Morrison '59
The following analysis is provided by Jim Morrision ('59) who was a wide receiver on the undefeated Army Football Team led by Pete Dawkins. Charlie Shaw ('62) was kind enough to forward this to us.
AF 14, ARMY 17: MONDAY AM QB REPORT
Please pardon the tardiness. I attended the AF game for our '58 Undefeated Team's 60th Reunion and traveled all day Sunday, arriving home late Sunday night. Hence the Tuesday AM QB Report.
Independent Army (7-2, Sagarin # 45) defeated Mtn. West Air Force (3-6, Sagarin #76) 17-14 in a hard-fought game on a cool, sunny, and windy day at Michie in front of an announced sell-out crowd (although there were some empty seats , possible due to the rain before KO).
With the win, Army retained the CIC Trophy in back-to-back seasons (for the first time ever), regardless of what happens vs. Navy. FYI, the current holder retains the trophy in case of 3-way ties. Since AF defeated Navy 35-7 earlier, Army will keep it for another year. HOOAH!
It was Army's 5th straight win and 11th straight win at Michie. Seven of those 11 wins have been by 7 points or less, many decided in the last minute (and even the last play!). Army feature writer John Feinstein named the current team the Michie Miracles. For us elderly (80+ years), a better term may be the Cardiac Cadets. Probably costing us Old Farts a few precious years.
Army dominated the First Half, limiting the AF O to just 3 possessions and gaining 164 yards TO vs. AF's 105 yards, but AF changed QBs (after an Army INT on the Goal line just before the Half) to start the 2nd Half, sparking their O. Army's O stalled in the 2nd Half with just one long Drive which was held to a FG.
The AF O out-gained Army 201 yards to 92 yards in the 2nd Half. The AF O also out-scored Army 14-3 in the 2nd Half. That's the 3rd straight game Army has been out-scored in the 2nd Half by a combined score of 50-31. Army is holding on for the wins thanks to the Army D and FGs by K Abercrombie.
Army is 13-0 over the last three years under HC when not having a turnover.