After Action Review: Army Football vs Rice
Details

Written by

SBNation - By Joe Kramer Aug 31, 2019, 6:00am PDT
Black Knights stumble out of the gate, but hang on to win in Week 1.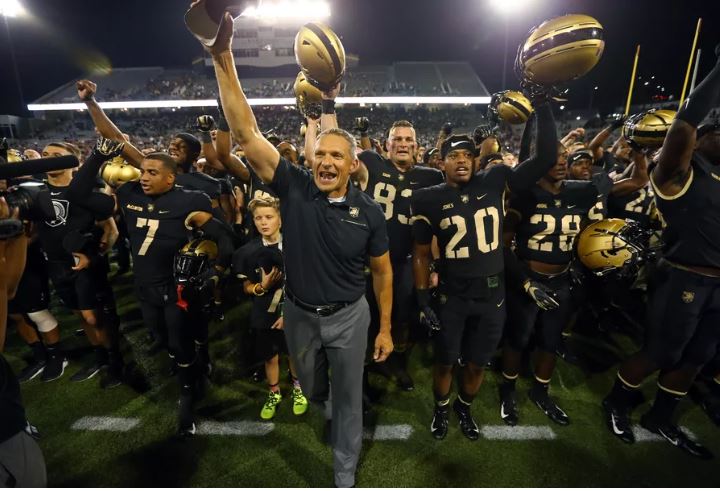 Well that wasn't exactly the start Army fans were expecting to see coming off the historic 2018 season. Although still a win for the Black Knights (14-7), it doesn't bode well with a top-tier opponent in Michigan on the docket for Week 2. Army struggled to find a rhythm on offense, as the Rice Owls seemed to have an answer for everything Army threw at them.
Offense
While many fans thought the departures of Darnell Woolfolk and Andy Davidson would be the most significant to Army's offense, Army's struggle to control the line of scrimmage would indicate that former center Bryce Holland might have been the most critical loss. Army averaged over 350 yards of offense on the ground in 2018, yet didn't even produce 250 yards of total offense against Rice. Senior fullback Conor Slomka's absence due to an "undisclosed injury" certainly didn't help; however, even Kelvin Hopkins had difficulty finding time and space to break off runs.
Despite opposition, USC board hires retired general Caslen, USMA 1975, as school's next president
Details

Written by

Posted By Charlie Shaw
The State (https://www.thestate.com)
This email address is being protected from spambots. You need JavaScript enabled to view it.
A divided University of South Carolina board of trustees voted Friday to hire retired Army Gen. Robert Caslen as the school's next president.
After a rare contentious meeting, the board rejected protests from faculty, some students and several politicians in choosing Caslen, the former superintendent of the U.S. Military Academy at West Point. The vote was 11-8. One board member abstained.
A crowd of roughly 128 students, alumni and faculty who had gathered in the Pastides Alumni Center, where the board met, began chanting "shame" minutes after the board voted.
Caslen was aware of the opposition to his candidacy and has pledged to meet with his critics and listen to them.
"I want to engage with my critics in the faculty and the students and take their advice," Caslen told The State. "They're valued members of the university and it's important they realize that I see them that way."
Asked how he felt to be named USC's