I4 Reconstruction - Price to redo 21 miles: $2.3 billion.
Details

Written by

By Arian Campo-Flores and Paul Overberg - Wall Street Journal
The Interstate Is Crumbling. Try Fixing the Section Used by 200,000 Vehicles a Day.
By Arian Campo-Flores and Paul Overberg | Photographs by Eve Edelheit for The Wall Street Journal May 28, 2019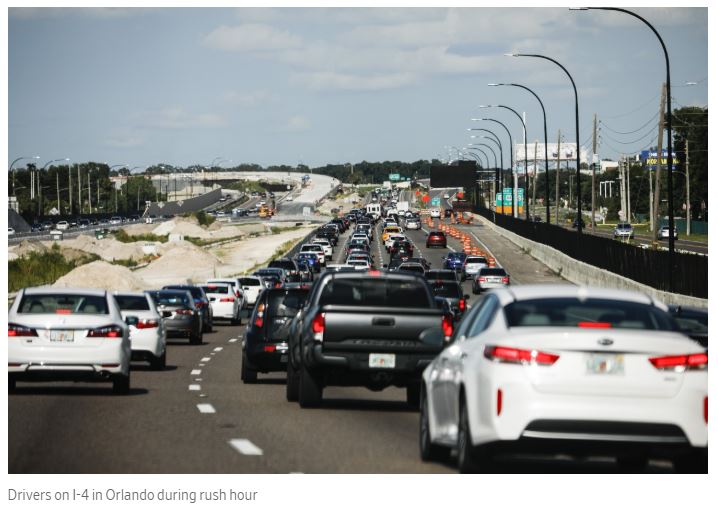 ORLANDO, Fla.—The state dubbed it the I-4 Ultimate for its grand scope. For some here, it's more like the ultimate headache.
A reconstruction of 21 miles of congested interstate highway through the heart of Orlando will build or rebuild 140 bridges, redesign 15 interchanges, move exits and add new toll lanes, in a $2.3 billion project to smooth traffic through one of the nation's fastest-growing cities.
Read more: I4 Reconstruction - Price to redo 21 miles: $2.3 billion.
2019 Distinguished Graduates Ceremony
Details

Written by

Jim Young
On Tuesday, May 21st, the Alumni Luncheon presenting the 2019 Distinguished Graduates will be held at West Point in the Cadet Mess Hall.
The West Point Association of Graduates "annual Distinguished Graduate Award is bestowed upon those West Point graduates whose character, distinguished service and stature draw wholesome comparison to the qualities for which West Point strives, in keeping with its motto: "Duty, Honor, Country." The awards will be presented in a ceremony at West Point on May 21, 2019. Please join us in congratulating the 2019 Distinguished Graduate Award Recipients:"
This year five graduates will be receiving this award and recognition. The graduates and their biographies are listed below.
Robert L. Caslen Jr. '75 – One of only four officers to have served as both West Point's Superintendent (59th) and Commandant of Cadets (70th), LTG (R) Robert L. Caslen's career spans more than four decades, three war zones, and the Pentagon on 9/11. Commissioned as an Infantry officer, Caslen commanded at every level, from platoon to division in light, airborne, and mechanized units. Notably, he served in Operations Desert Shield/Storm, coordinated joint and interagency counterinsurgency operations in Nicaragua and El Salvador, deployed to Operation Uphold Democracy in Haiti, commanded the 25th Infantry Division and Multi-National Division-North in Iraq, and was Chief, Office of Security Cooperation following the planned 2011 withdrawal of U.S. security forces in Iraq. He also had three tours at West Point: first, as an assistant football coach and company tactical officer; second, as Commandant (who initiated the Cadet Leadership Development Program with its extended field training exercises at Camp Buckner for rising First-Year cadets); and, finally, as Superintendent. Regarding this last post, one of his nominators said, "Perhaps Douglas MacArthur deserves credit as West Point's finest Superintendent, but history will show us that Bob Caslen's impact on the Academy lasted longer and was more transformative." Affectionately called "Supe Daddy" by cadets, Caslen instituted a fourth pillar of West Point Leader Development ("character," also known as "honorable living"); stood up numerous improved facilities and a new barracks, as well as academic and athletic centers; promoted a winning culture at the Academy, and inspired approximately 8,000 future officers in the U.S. Corps of Cadets.