Kelvin Hopkins Jr. didn't have the test scores to join Army's football team right out of high school. Now, after a year in the academy's prep school, he's the clear star for the Black Knights.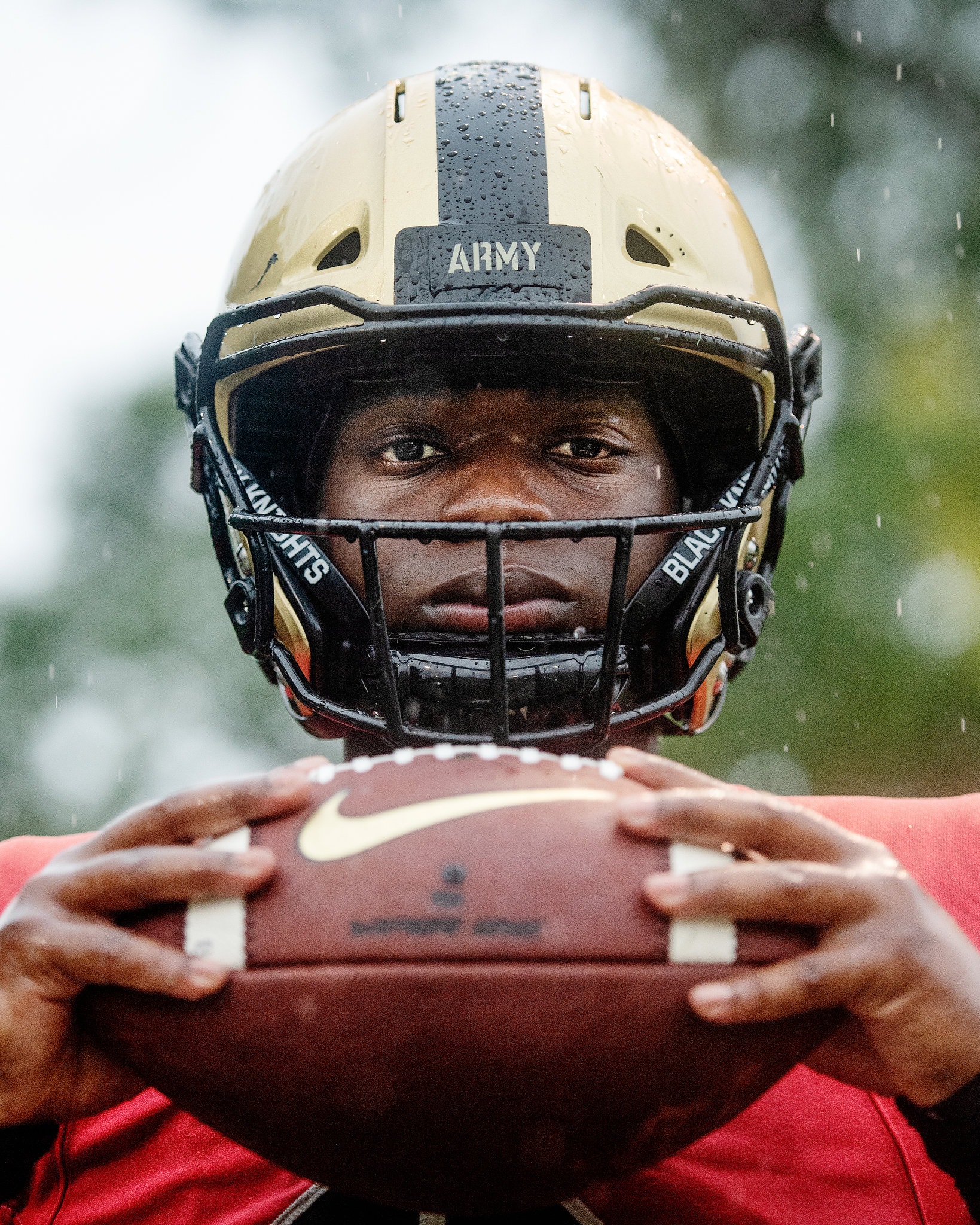 WEST POINT, N.Y — Kelvin Hopkins Jr., the youngest of three children raised by a single parent, was a mama's boy who was hesitant to move far from home when he graduated high school in Charlotte, N.C. He did not know much about the military life, either, and his test scores were "not ideal."
All this made Hopkins a risky candidate for the United States Military Academy, which is charged with generating future Army officers. But it did make Hopkins, a charismatic leader with an admirable work ethic — and a sharp passing arm — an ideal prospect for the academy's prep school.
Now, four years later, the bet West Point made on Hopkins looks like a good one. He is nearing a degree in philosophy, relishes training to become an officer and, not insignificantly, has become a star quarterback and a centerpiece of Army's continuing football renaissance.
The Black Knights, who had one winning season in 17 years before Jeff Monken was hired as coach in December 2013, have been on an upward trajectory since. They are coming off three consecutive bowl victories and a school-record 11 wins last season, and came within a whisker of their biggest victory in half a century in Saturday's 24-21 double-overtime loss at then-No. 7 Michigan.
Army's revival is in no small part due to players like Hopkins, who have arrived in recent years under a slight loosening of academic requirements and used their year at the prep school to get acclimated to the military academy's unique atmosphere.
"Rather than trying to squeeze me in at the academy and watching me fail or struggle, it was, 'Here's an opportunity for you to understand how the academy works, get a nice baseline of how academics and things like that work,'" Hopkins said after a recent practice. "It was a period where I got to test the waters."
Hopkins is not an outlier. More than 60 percent of Army's roster this year — and 14 of 22 starters in the loss to Michigan — spent a year at the United States Military Academy Prep School, known by its acronym, USMAPS. The mean SAT score for this year's class at the prep school was about 130 points lower than that of the cadets who were admitted directly to the academy, the school said (incoming West Point freshmen had a mean SAT score of 1286).
Long ago, the three major service academies — Navy, Air Force and Army — formed prep schools to create an avenue for enlisted soldiers to become officers and to increase diversity at the academies. In recent decades, they have also used prep schools to be more competitive in sports, trying to offset the inherent disadvantages the academies face in trying to compete in Division I football and basketball: the postgraduate military commitment; no redshirting; and, in some cases, weight and height limitations. This year, 38 percent of the 239 prep school students who were admitted arrived as prospective athletes.
While Air Force and Navy enjoyed periods of sustained success in football since the 1980s, Army never could — even with a coach as accomplished as Bobby Ross, who won a share of a national championship at Georgia Tech and took the San Diego Chargers to their only Super Bowl. So when Boo Corrigan, then the athletic director, hired Monken, who had been an assistant at Navy during its turnaround, it was accompanied by an acknowledgment from the administration that other changes were needed, too.
While Army won't be admitting anyone with a 2.0 grade-point average or an 800 SAT score, the 17 members of the admissions committee have been encouraged to take a more inclusive view of an applicant's file, including community service, leadership, character and athletic traits.
"We looked at it like, 'How do you judge grit, how do you judge tenacity, or the phrase I would use — what do they bring in the rucksack to West Point?'" said Corrigan, who in January took the same position at North Carolina State.
Those who might be long on tenacity (and football talent) but short on test scores may be offered a spot at the prep school, which serves largely as a 10-month academic boot camp — a course load of math, science, English and a character/life skills class in an environment that mirrors life at the academy, from 5:30 a.m. wake-up calls to the way the classroom desks are arranged.
And for football players, it means a de facto redshirt year: a chance to get bigger, stronger and faster in a training regimen that is coordinated with Monken's staff, and immersion in the intricacies and nomenclature of the Army playbook and its throwback triple-option offense. The assistant coaches at the prep school are typically recent graduates who are awaiting assignments late in the fall.
(At the end of the year, four in five prep school students typically matriculate to the academy; for the ones who don't, it is usually by choice.)
N.C.A.A. rules limit the contact between the Army football staff and the prep school since the prep school athletes could be recruited by other universities. But the academy and the prep school became even more tightly bound in 2011 when USMAPS moved 100 miles north, from Fort Monmouth, N.J., to a corner of West Point, where virtually everything — dorms, classrooms, the cafeteria and gyms — is housed in one monolithic building about two miles from the football offices.
The prep school bolsters the ideals of Monken's program.
"You have to recruit the right people, you've got to keep them in your program and you develop them when they're here," Monken said. "That's what West Point does so well."
The allowances made for football — like the reformulated evaluations, moving military training to the start of summer to allow players time to regain weight, and double portions of meals for linemen and linebackers — have helped Army recruit and develop more players who look the part.
Blake Powers, a captain in the Army who started at quarterback and tight end at Indiana a decade ago, recalled being startled by how small the players looked when he served as an honorary team captain at Army's spring game in 2010.
"I'm used to what a Big Ten football player looks like, and I thought it looked like a high school team," said Powers, who is Army football's liaison to the admissions office. "When I got here last spring, I immediately thought: bigger, faster, stronger."
As Col. Joshua Higgins walked through the USMAPS hallways with a visitor recently, he exchanged nods, hellos and handshakes with cadets-in-training as they made their way to the cafeteria after a morning of classes. They were dressed in green camouflage fatigues with their last name stitched over their right breast pockets.
Higgins, halfway through a two-year stint in charge of the prep school, said the value of a year at prep school was reinforced when he was a plebe at West Point, arriving in his room "a sweaty mess" on the first day while his roommate, a prep school graduate, had his belongings put away and had his feet up, reading.
"SAT scores, leadership scores are great for the admissions team, but once I get them here, it's about what's in here," Higgins said, tapping his chest. "The prepsters sometimes may not bring a strength academically, but they give you a more well-rounded team."
It is why, Higgins said, the leaders of the cadet corps often came through the prep school.
On the football field, it is much the same.
Arik Smith, a sophomore linebacker from Bowie, Md., said there is camaraderie — sometimes unspoken — among prep school graduates when they arrive at the academy for Beast Barracks, the six-week cadet basic training that overlaps with football practice. "If you're a direct guy, you don't necessarily have any idea of what's going on and you don't have a friend group," Smith said.
His teammate Amadeo West, a senior linebacker who was 17 when he arrived at USMAPS from Oceanside, Calif., said that when players had to name a teammate they admired during a training-camp exercise, most chose someone who had come through the prep school.
Among them was Hopkins, who came off the bench as a sophomore to direct a long, game-tying touchdown drive in an overtime win over Temple, and last year ran for 125 yards as Army pushed Oklahoma to overtime. He is listed on the preseason watch list for several college football honors, including the Walter Camp, Davey O'Brien and Maxwell awards.
Hopkins, who threw a late touchdown pass in a 14-7 season-opening win over Rice, had two critical turnovers against Michigan — an interception near Michigan's goal line and a fumble that sealed the win for the Wolverines. But he also scored twice and directed Army into position for the freshman kicker Cole Talley's 50-yard field-goal attempt that nearly won the game on the final play of regulation.
"If you had asked me three years ago if I'd be where I am today, I'd have laughed at you," said Hopkins, whose toughest transition may have been on the football field. He did not start once at the prep school, calling his high school coach to express frustration over not being able to get his footwork and reads down. He was the sixth quarterback as a freshman.
So when Hopkins led the Black Knights out before more than 111,000 fans on Saturday at Michigan Stadium, it was with a degree of validation — not just for him, but for those at Army willing to take a chance on players like him.