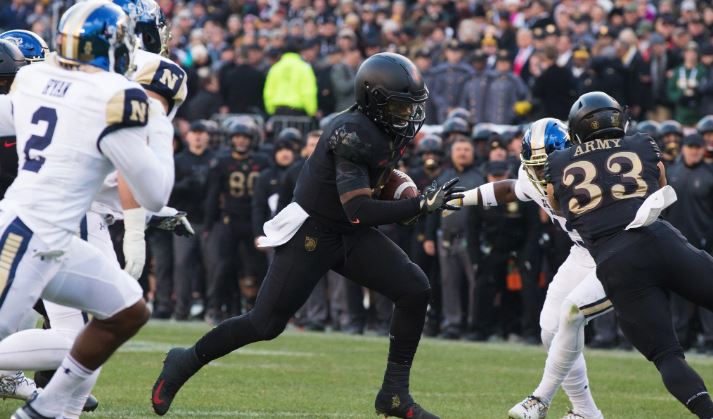 Army Coach Jeff Monken hopped on top of a wall and pumped his fist toward stoked cadets who were set to belt out the alma mater. He brought the party to the locker room and waved an Army football flag as the Black Knights bounced around him.
Army ditched its mundane routines and cut loose like a bunch of rowdy civilians on Saturday. And why not? The setting was right after Army had beaten Navy for a third straight time, this time in front of a packed house and the president at Lincoln Financial Field in Philadelphia.
"I don't ever want our guys to stop celebrating," Monken said. "I promise you, I'll be celebrating every year if we win this thing because I know how hard it is."
Monken returned a program that routinely suffered annual losses to the Midshipmen into a bowl-bound team that can keep the Commander-in-Chief's Trophy at West Point.
The No. 22 Black Knights recovered two fumbles in the fourth quarter and Kelvin Hopkins Jr. had two rushing touchdowns as Army beat Navy, 17-10.
President Trump attended the 119th game between the rivals and flipped the coin before spending a half on each side. No matter his view, Army (10-2) always had the edge.
Army retained the Commander-in-Chief's Trophy — awarded to the team with the best record in games among the three service academies — after winning it for the first time in 22 years last season and snuffed a late rally by Navy (3-10).
Army retained the Commander-in-Chief's Trophy — awarded to the team with the best record in games among the three service academies — after winning it for With Navy behind by 10-7, quarterback Zach Abey lost a fumble on fourth-and-12 deep in his team's territory. Hopkins scored on a 1-yard run, making it 17-7 and giving Army the cushion it needed to win in front of an announced crowd of 66,729.
Army players hopped and waved hands in celebration during a replay timeout and got the cadets in the stands to bounce along. They had good reason to celebrate: Army has regained its footing in a rivalry in which Navy had a series-best 14-game winning streak from 2002 to 2015. Army trails over all, 60-52-7.
"It's been hard on all of us: our players, our coaches, our staff, our school," Navy Coach Ken Niumatalolo said. "We like to win. We've been winning a lot of games."
Trump sat on the Army side during the first half and crossed the field to the Navy side at halftime. He officiated the coin toss and was introduced by the public-address announcer Dan Baker to a cheering crowd. Navy called "tails," and that was what it was when the flipped coin landed on the turf. Navy elected to kick off.
That was a mistake.
Kell Walker ran 51 yards to the 10 on the fourth play from scrimmage, and Hopkins dashed in for the touchdown on the next play for a 7-0 lead. In a series steeped in traditions — the "March On" and drumline battles among them — perhaps none is more ingrained than the running game. Last year's game had a combined three pass attempts, and quarterbacks for each team are usually the leading rushers.
But Army and Navy tried to throw more often this time, with mixed results. Army safety Jaylon McClinton had an interception in the first half. Army also dropped a key third-down pass that led to John Abercrombie's missed 33-yard field-goal attempt in the second quarter. Abercrombie rebounded and kicked a 33-yarder in the third for a 10-0 lead.
Last season's game was an instant classic: Bennett Moehring narrowly missed a 48-yard try in the snow on the final play and Army held off Navy, 14-13.
On Saturday, Moehring made the extra point after a 1-yard scoring run by the backup quarterback Garret Lewis that pulled Navy to 10-7 with 7 minutes 10 seconds left, and he kicked a 45-yard field goal with 29 seconds to play. Lewis's score was set up by Malcom Perry's 43-yard run to the 5.
There were reminders all around the stadium that this was no ordinary game. The Navy Leap Frogs parachute team drew a roar from the crowd with each safe landing on the field. Bill the Goat, Navy's mascot, was safely leashed and secured against a possible abduction attempt by cadets. And each side safely returned "captives" in the "prisoner exchange," in which seven midshipmen and seven cadets swap service academies for a semester. The Army prisoners spelled out "3-PEAT" on the backs of their uniforms.
After the game, Trump posted on Twitter: "It was my honor to attend today's #ArmyNavyGame in Philadelphia. A GREAT game played all around by our HEROES. Congratulations @ArmyWP_Football on the win!"